WD-2 2" Hand Held Cutter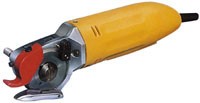 Download WD-2 Parts Book

Our WD-2 (45 watts) is a lightweight 2" Rotary Cutter which is similar to SUPRENA. Weighs in at just 850 grammes. Used primarily in Pattern and Sample Rooms for single or double ply's or for cutting small lays of 3 plies. No more SCISSORS or sore hands !
Delivered complete with 13amp Plug, just connect it and you're up and running. Integral sharpener always gives a keen edge to the blade. Built-on Finger/Safety Guard and Blade lubricator for use when cutting plastics or fabrics which fuse. Spare blades (same as Suprena M702) are available from us here, either Round or Hexagonal.
Call in to see the WD-2. Price £89 + vat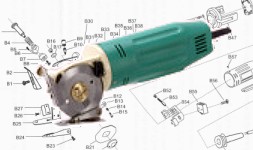 Download WD-2A Parts Book

And FOR SLIGHTLY HEAVIER APPLICATIONS we have the WD-2A (150 watts) machine. More powerful 150w motor makes light work of vinyl's, leather, foam & quilting. 75mm blade. Integral sharpener keeps the blade keen at all times. Blade lubricator for difficult fabrics which fuse when cut.
Priced at just £119 + vat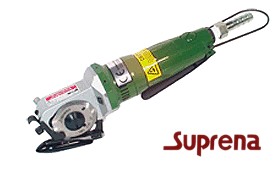 SUPRENA PC-1062 Air Powered Rotary Knife
Hand Held Air Powered Rotary Cutting Machine.
2" Round Knife makes Light Work Of Tough Jobs.
Built In 'One Touch' Sharpener. Blade Guard.
Powerful 300w Air Motor. Hand Lever Operated.
Weight - 2Kg Price £450.00 + vat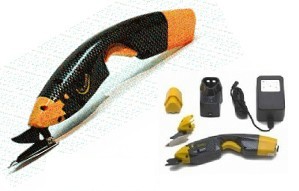 EC-10B Cordless Shears
Take The Hard Work Out Of Cutting. These Shears
Tackle Glassfibre, Carbon Fibre & Kevlar Easily.
Supplied With Charger. Fast Charge Time.
Cordless Shears Eliminate The Often Restrictive
Power Lead. Price £79.00 + vat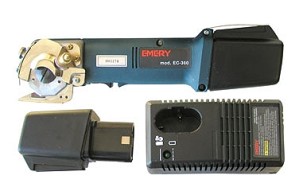 EMERY EC-360 Cordless Round Knife
Cordless Electric 60mm Round Cutting Machine.
Fast 1 Hour Charge Time. Supplied complete with
Charger. Auto Cut Off When Battery Charged.
Edge Guide For Accurate Cutting.
Built In Sharpener & Blade Guard. Weight 3Kg.
Price £160.00 + vat



Registered In England Company No. 05493326

All Our Knives are Designed to meet and Exceed all European Directives on Safety and Quality


All Major Credit/Debit Cards Accepted

Round Knives from just £195 + vat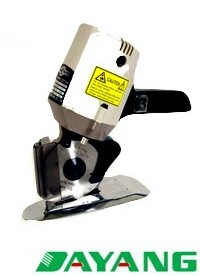 Our Most Popular Round Knife. It is lightweight and really easy to use. RSD100 100mm (4") ROUND KNIFE with Octagonal Blade for keen cutting every time. Replacement for the KM RS100 OCTA & SU LEE RC-280 machines. Powerful 100w motor. Automatic knife sharpener. VERY HIGH QUALITY OF BUILD. One piece die-cast body. Ultra thin baseplate. Fully guarded. CE tested and approved. Designed in Japan and manufactured to European Quality Standards.
Full Parts Stock for Immediate Despatch


CZD103 SERIES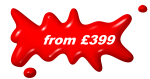 A high quality straight knife which is similar to the KM KS - AUV series of machines , in fact parts are interchangeable.
Powerful 550w (3/4hp) Motor which can be supplied in 220/240v Single Phase.

Quiet, Smooth and Efficient. Built in automatic knife sharpener keeps the blade keen at all times. Simple one hand operation. Auto lubrication of all moving parts from one central oil dispenser ensures adequate lubrication of the crosshead assembly at all times. Uses standard EASTMAN TYPE blades and sharpening bands which are available from us.
DAYANG CZD103-160mm 6" Knife £399 + UK Vat
DAYANG CZD103-210mm 8" Knife £399 " "
DAYANG CZD103-260mm 10" Knife £499 " "
DAYANG CZD103-310mm 12" Knife £599 " "
Download CZD103 Series Parts Book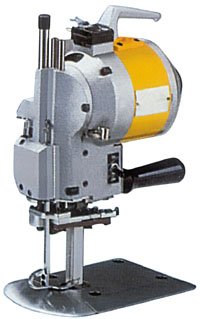 CZD108 SERIES (370 watts)
New Lightweight Series of Straight Knife for smaller lays. The CZD108 is 15% lighter than the CZD103 series. Available in a 5" version. Parts are interchangeable with KM-EU series machines. Built in sharpener and Auto Lubrication. One hand operation for ease of use.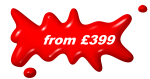 Download CZD108 Series Parts Book

The New CZY120 Machine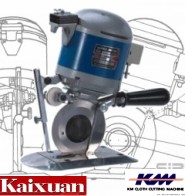 Download CZY120 Parts Book
(440 watts) A 5-1/4" Circular Cutter for heavier applications. Ideal for Rag Cutting, Quilting, Canvas, Denim, Cordura etc.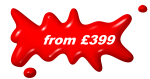 One handed operation. Built in knife sharpener. Parts are interchangeable with KM KR-A Machines.
parts, machines & service
please call us......

&