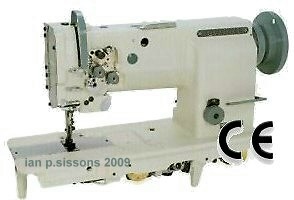 Today's Price £1349 + Vat Complete On Unit

Thank you for your interest in our GC20618-2 Twin Needle Walking Foot & Needle Feed Lockstitch Machine.



Long Stroke Feed Action delivers upto 9mm Stitch length in forward and reverse sewing.

Integral Safety Clutch protects Rotary Hooks in the event of Fabric or Thread 'Jamming', easy 'Push Button' re-setting. No need to Adjust or Re-Time the machine at all.

Large rotary hooks hold over twice the thread of standard machines which is very beneficial when using thick threads, 20's, 30's etc.
Supplied standard with 1/4" or 5/16" needle gauge, but is also available in a wide range of other gauge sizes. Call us with your requirements.

We have been importing this Manufacturers products into the UK for over 10 Years, in fact we were the first company to introduce HIGHLEAD Machines into the UK. HIGHLEAD is one of the Major new names in Industrial Sewing Equipment.

This manufacturer has attained the ISO9002 quality standards award and all machines we import meet and exceed all European requirements for Quality & Safety. Each Machine bears the CE symbol which is your guarantee.
HIGHLEAD, as well as marketing under their own brand name, also manufacture Machines for GLOBAL and MITSUBISHI with whom they have a very close manufacturing relationship.
So you're in Good Hands


Twin Needle Walking Foot Lockstitch Industrial Sewing Machine for heavy applications.


Full Compound and Needle Feed Transport for excellent feeding of Leather, Plastics, PVC, Heavy Canvas, Straps & Webbing.


Large Rotary Hooks and Bobbins


Identical machine to the MITSUBISHI LU2-4420-BOB and the GLOBAL WF946 machines.


Identical Feed System to the BROTHER B838 and B878 machines at a far more competitive price.


Reverse Lever for Two Way Sewing


Automatic Lubrication


Upto 9mm Stitch Length


Designed in Japan, European Build Quality


CE Tested and Approved


Large 16mm Footlift Height


Very Competitively Priced from just £1349 + vat


Used extensively in the Manufacture and repair of Playground Equipment and Bouncy Castles, Cold Air Inflatables, Lorry Curtains & Tarpaulins, Survival Equipment, Meteorological, Defence & Leisure Helium Balloons and in all applications which require a positive feeding action.
Also ideal for Double Top Stitching of seams in Leather,PVC and Furniture Manufacturing.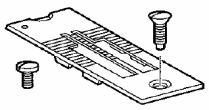 GAUGE SETS & REPLACEMENT PARTS FROM STOCK
6.4mm = 1/4"
8.0mm = 5/16"
9.6mm = 3/8"
12.7mm = 1/2"
15.9mm = 5/8"
19.1mm = 3/4"
25.4mm = 1"
Priced £69 per set