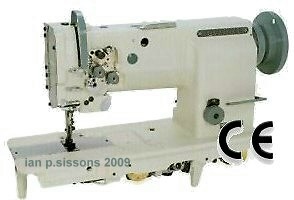 HIGHLEAD GC20518-B Twin Needle Machine from SEW EUROPE



The HIGHLEAD GC20518B offers exceptional value for money with prices starting at just £995 + Vat complete. This machine is extensively used in HOT AIR BALLOON, PARACHUTE & PARAGLIDER and DEFENCE EQUIPMENT Manufacture. It is also ideally suited to attaching STRIPS, CURTAIN HEADING TAPE, VELCRO, LACE and wherever twin needle sewing is required. Large Rotary Hooks allow 2.5 times the amount of thread in the bobbin which makes the A320 ideal for long seam runs or where thick thread is used.




please click on an image for the big picture
We are the UK importer, so with no middleman we can offer this machine at substantial savings over current market prices...call us with your specification for a quote. Prices start as low as £995 + vat for a machine complete on unit.
Ask us about specialist applications...



please click on an image for the big picture




AEROSTAR* ...Special Application Machine for the Manufacture & Repair of Hot Air Balloons, Microlight Wings, Handgliders, Parachutes etc.
Large Rotary Hooks, 8mm Needle Gauge, Supplied with 10metre High Visibility Lead. Specialist Tape Guides for the Application of Load Tapes. Unit stand with castors for mobility. EFKA Needle Position Motor and automatic footlift. We have supplied this machine to Cameron's, Lindstrand, Thunder & Colt and Sky for manufacture. Repair stations in the UK, Austria, Germany, Italy, Seattle, New York, Boston and South Africa use this machine. With our experience...call us to discuss your requirements.
USED MACHINES ALWAYS IN STOCK.
Priced as Follows.....
HEAD ONLY IN MANUFACTURERS CARTON 1/4" - £ 799
COMPLETE ON SINGLE PHASE UNIT 1/4" - £ 995
all prices are 'ex-works' and subject to UK VAT where applicable.

We Import and Distribute this Manufacturers products into the UK. HIGHLEAD is one of the Major new names in Industrial Sewing Equipment.


This manufacturer has attained the ISO9002 quality standards award and all machines we import meet and exceed all European requirements for Quality & Safety. Each Machine bears the CE symbol which is your guarantee.
HIGHLEAD, as well as marketing under their own brand name, also manufacture Machines for GLOBAL and MITSUBISHI with whom they have a very close manufacturing relationship.
So you're in Good Hands


uses standard SCHMETZ 134R (DPx5) Needle
High Speed, Large Hook Twin Needle Lockstitch Machine with Forward & Reverse Sewing. Equivalent Machine to the MITSUBISHI LT2-2230-B1. Rotary Stitch Adjustment with upto 8mm stitch length in forward and reverse.




please click on an image for the big picture
Integral Oil Pump ensures proper lubrication to all moving parts thereby increasing durability and lowering operating noise to levels not previously achieved in Twin Needle M/c's.




please click on an image for the big picture

Independently adjustable Check Springs allow perfect balance of both stitch formations.
Designed in Japan and Manufactured to European Quality Standards.

Supplied complete with all Guards to comply with Health and Safety requirements. Uses standard BROTHER/SINGER/MITSUBISHI twin needle gauge sets which are available everywhere. CE Tested & Approved
RU/C Stand with Castors for Mobility



Extra Long Benchtop for Efficiency
Large 'D' Type Tabletop for Bulky Work.
RACING Rear Puller.
EFKA DC Needle Position Motor
Halogen Needle Light.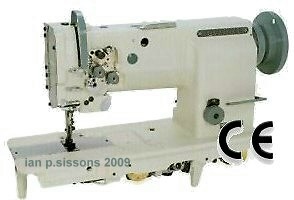 ** Now Available The GC20698-2 Walking Foot Twin Needle Machine



Twin Needle Compound Feed Lockstitch Machine with Large Rotary Hooks. Supplied standard with 1/4" needle gauge. Ideally suited for Tarpaulins, Lorry Curtains and Cold Air Inflatables....see it HERE.
Single Needle Model GC20618-1 is now also here.
Check it out HERE
Both machines are fitted out with safety clutch.