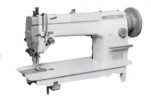 Top & Bottom Feed Walking Foot Lockstitch Machine which is best suited to medium weight work on PVC, LEATHER, CANVAS and other difficult to feed materials.
Identical to the MITSUBISHI LY2-3300-BOB, PROTEX TY3300, WIMSEW 3300 JSM PF5318 and CONSEW 205RB Machines.
Please click on an Image for the BIG PICTURE


LARGE ROTARY HOOK holds 2.5 times the thread than a standard bobbincase which means less bobbin changes. Especially useful when using thick threads.


UPTO 8mm STITCH SIZE for large jobs and decorative stitching. Machine is also fitted with Industry Standard Accessory Plate for Attachments.


HIGH FOOTLIFT at 8mm on Handlift and 16mm using Kneelift means plenty of room for the thickest jobs. GC0318 uses standard Chandler Feet for piping.


AUTOMATIC LUBRICATION via the built in Oil Pump means higher speeds and smoother running. Machine has 800ml Oil Pan for continuous supply.


INDEPENDENTLY ADJUSTABLE Presser Foot Lift for optimum performance when sewing seams which have large insertions such as webbings and crosseams.


INDEPENDENTLY ADJUSTABLE TOP FEED RATIO allows fine tuning for even and flat seams on difficult fabrics which are prone to twisting and 'roping' when sewn.

Max Speed. 2000 s.p.m. Smooth & Quiet even at these speeds on Heavy Work. Come & Try One Today. Call for an appointment.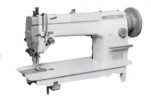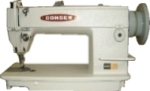 Consew 205RB Mitsubishi LY2-3300-BOB