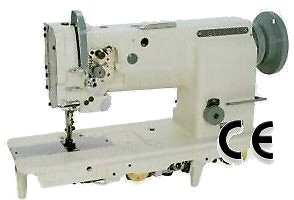 HIGHLEAD GC20618-1 £1149 + vat Complete

HIGHLEAD GC20618-1 Single Needle Walking Foot Lockstitch Industrial Sewing Machine for HEAVIER Applications. Full Compound and Needle Feed Transport. Ideal for sewing Leather, PVC, Quilting and all bulky work which needs positive transport thru the machine.

Fully Adjustable Operating Foot Lifting Height makes this machine ideal for thick work such as Wadding , Quilting , Insulation. It is also an Ideal Platform for sewing Leather , Plastics and other difficult to feed workpieces.

Used widely in the Manufacture of Upholstery, Auto Seat Covers, Marine Trim, Bags and Luggage, Aviation, PVC Banners & the Insulation Industry.

Identical Machine to the LU2-4400-BOB from MITSUBISHI with whom the Manufacturer has a Manufacturing Agreement. Feed System is identical to the BROTHER B837 and B877 machines at a far more competative price.

Uses Standard SINGER 211 Type Fittings for Piping and Edge Stitching etc.




ABOUT HIGLEAD MACHINES

We Import and Distribute this Manufacturers products into the UK. HIGHLEAD is one of the Major new names in Industrial Sewing Equipment.


This manufacturer has attained the ISO9002 quality standards award and all machines we import meet and exceed all European requirements for Quality & Safety. Each Machine bears the CE symbol which is your guarantee.
HIGHLEAD, as well as marketing under their own brand name, also manufacture Machines for GLOBAL and MITSUBISHI with whom they have a very close manufacturing relationship.
So you're in Good Hands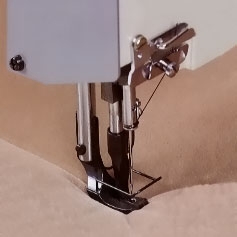 Uses standard SCHMETZ 135x17 Needle



Integral Safety Clutch Protects Hooks.

Easily Reset with Pushbutton


Full EUROPEAN & UK Spec Model


Rotary Stitch Size Adjuster


Large Capacity Rotary Hook


Reverse Lever for Two Way Sewing


Automatic Lubrication


Upto 9mm Stitch Length


Designed in Japan, European Build Quality


CE Tested and Approved


Large 16mm Footlift Height


Very Competatively Priced at Just £1149 + vat


UK Delivery from Liverpool


Full UK Parts and Service Backup

H.S. Digital Servo Needle Position Motors are Available as Optional Extra's on All HIGHLEAD Machines.
We import these Machines, so with no middleman we can offer this machine at substantial savings over current market prices...call us with your specification for a quote. Prices start as low as £1149 + vat for a machine complete on unit.

Ask us about specialist applications,
Service Kits and Optional Extras...