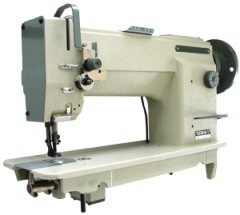 HIGHLEAD GC0618-1SC



The HIGHLEAD GC0618-1SC Walking Foot Machines have Full Compound and Needle Feed Transport for heavier applications. Similar machine to the SEIKO STH8BL and CONSEW 206RB, but with much more modern styling. The HIGHLEAD GC0618-1 machines are ideally suited to HEAVY UPHOLSTERY, CANVAS & CORDURA Sewing, WEBBINGS and PVC, LEATHER / AUTOMOTIVE TRIMMING and EQUESTRIAN PRODUCTS.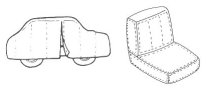 Designed in Japan and Manufactured to European Quality Standards, Each Machine bearing the CE symbol as your assurance of Quality and Safety. Supplied complete with all Guards to comply with Health and Safety requirements. CE Tested & Approved.


With both Needle and Compound Feed Transport, 'ply-shifting' is a thing of the past. Even feeding of both ply's is virtually guaranteed with the 'Walking Foot & Needle Feed' system.


Please feel free to call us for more details or to check stock and availability or just call in at our showrooms for a demonstration - we'll be delighted to see you.


We IMPORT & DISTRIBUTE these machines on a DIRECT BASIS, which means we can offer you prices starting at just £549 + Vat for a Head Only Deal or from £679 + vat for a complete machine on a 'Cash & Carry' basis.


ABOUT HIGLEAD MACHINES

HIGHLEAD is one of the Major new names in Industrial Sewing Equipment.


This manufacturer has attained the ISO9002 quality standards award and all machines we import meet and exceed all European requirements for Quality & Safety. Each Machine bears the CE symbol which is your guarantee.
HIGHLEAD, as well as marketing under their own brand name, also manufacture Machines for GLOBAL and MITSUBISHI with whom they have a very close manufacturing relationship.
So you're in Good Hands
Uses standard 111/211 Piping Sets which are available from us in all sizes 1/8 to 1/2". see them HERE




SC Machine is fitted with Integral Safety Clutch to protect the Rotary Hook in case of Needle Strike or Thread Jammng, thus preventing damage.
Easily Reset and no need for 'Re-Timing' of the machine. Highly recommended in Heavier Applications or when using thick threads.



uses SCHMETZ 0r GROZ BECKERT135x17 (SY3355) needle



please click on an image for the big picture
Heavyweight Lockstitch Sewing Machine.
Forward & Reverse Sewing.
Full Walking Foot & Needle Feed Transport
Large Capacity Rotary Hook & Bobbincase.
Upto 8mm Stitch Size. Rotary Dial.
High Footlift 8mm (Hand) & 15mm (Knee)
Upto 2500 stitches per minute.
UK Delivery from LIVERPOOL



please click on an image for the big picture
Supplied either Head Only or Complete on Unit




please click on an image for the big picture

We Can Customise Service Kits for all HIGHLEAD Machines - Please Call