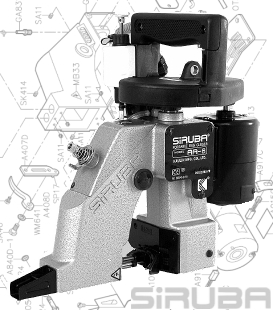 We are the UK IMPORTER & DISTRIBUTOR of the SIRUBA AA-6 Portable Bagstitcher, we are based in Liverpool. It is the best selling bag closer of it's type in the world today. Why pay £630, £700 or even £800 for a bagstitcher when our SIRUBA AA-6 portable bag closer offers great value at £330 + Vat on all retail sales.
This machine compares equally for Quality and Performance to the NEWLONG NP-7A FISCHBEIN and UNION SPECIAL MACHINES, but at a fraction of the cost! Shop around - then CALL US.

REPAIRS & SERVICE

Used extensively in:
ANIMAL FEEDS, FLOUR and SEED MILLS, VEGETABLE MERCHANTS, CHEMICAL INDUSTRY, TEXTILE DYEING/BLEACHING & PRINTING HOUSES. POST ROOMS & DESPATCH Departments. Used in LAUNDRY's for joining Roller Towels together before washing.....We have even sold these machines for on site repairs to LORRY TARPAULINS, MARQUEES , 'BOUNCY CASTLES' & PVC SOFT PLAY EQUIPMENT. and joining CARPETS prior to processing!
Closes PAPER, PVC, POLYPROP, HESSIAN and PP/PE Woven SACKS easily
12 volt version is available for Field Work, will run from a Tractor or Truck Battery. Used widely by Farmers and Vegetable Growers. CE Tested & Approved
Available in 12v, 110v & 240v Specification.
Needle System: SCHMETZ D5.

LOW OUTLAY COMPARED TO COMPETITION

REALISTIC PRICE REPLACEMENT PARTS



FULL UK SIRUBA AA-6 SPARES INVENTORY AT LIVERPOOL - PLEASE CALL

WORLDWIDE DEALER NETWORK

BAGSTITCHER THREAD
We are suppliers of both DOMESTIC & IMPORTED Bagstitcher Thread in FOOD GRADE & STANDARD Qualities. Call Us Today - No Quantity is Too Small

2.5kg, 5kg & 10kg Large Cones Also Available


Single Thread Chainstitch Formation will Close Paper, PVC, Hessian and Jute Bags easily. Pump Oil System ensures all parts receive correct Lubrication. Prolongs Machine Life



Innovative Presser Foot Lifter

allows access to the Needle Plate for cleaning and servicing without removal of the Presser Foot itself. Easily Maintained Machine.

Fully Guarded Integral Thread Trimmer cuts sewn chain at end of piece for even more efficiency.

Full SERVICE BACKUP is available from us here at Liverpool. We hold the UK's Largest genuine manufacturers Replacement Parts Inventory which means fast turnaround on repairs.
ASK ABOUT 'FIXED PRICE SERVICING'


OPTIONAL EXTRA's
A947 HANGING HOOK
A962 SPRING BALANCE
BAG STITCHER THREAD
FULL AFTER SALES SERVICE OF SIRUBA AA-6 MACHINES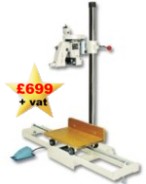 ASK US ABOUT THE GK/S-8 TROLLEY SYSTEM
Supplied Complete With Sewing Head (More Info)
SIRUBA AA6 PARTS PAGE
EVERYTHING IN STOCK




See Our Range Of AA6 Parts - HERE


Parts and Service to NEWLONG &
FISCHBEIN Portable Bag Stitchers
( NEWLONG NP-7 Parts Section - HERE )



Credit/Debit Cards Accepted for Mail Order

e-mail us