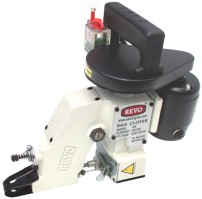 C89-1DA
Sewing speed: 1700 RPM
Presser foot lift: 6 mm
Needle: DBx1 Size 200
Stitch length: 7 mm
With 30 years of experience making Portable Bagclosers, REVO have really excelled this time. Ultra Rugged Construction for Hard Environments where thick seams have to be sewn.
What is probably the HEAVIEST DUTY Portable Bag Closer available !!
We are the UK Importer & Distributor for the REVO range of Bagstitchers. Excellent Value for Money when compared with comparable European, American and Japanese Machines.
Full In House Service Team. Full Inventory of Replacement Parts available for immediate despatch. Full Product Support.

Single Thread Chainstitch Formation will Close Paper, PVC, Hessian and Jute Bags easily. Pump Oil System ensures all parts receive correct Lubrication. Built In Thread Trimmer . Excellent Range of Accessories.


2 Needle 2 Thread Model Available
On Standard Machines (Except Taper)


CREPE PAPER Seam Taping Machine Model C89-DAC-R Available


Heavy Duty Accessories Available


Crepe Paper - CA-90 52mtrs x 5.5cm Rolls available from stock @ £1.89 per roll



All Major Credit/Debit Cards Accepted for Mail Order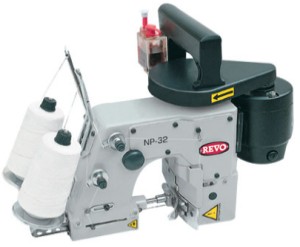 NP-32 Two Thread Chainstitch Bagcloser
Superior Double Thread Seam Which does not unravel

if the seam is cut. Perfect for Closing All Types of Jute, Paper, Hessian and PVC Sacks and Bags. Rugged Construction Offers Trouble Free Performance in Tough Industrial and Agricultural Environments.
Built in Thread Trimmer cuts the Thread at End of Seam. Powerful Feed Action means less Jamming.
Built in Lubrication System for Improved Performance and Reduced Component Wear. Supplied complete with Hanging Hook and Spring Balance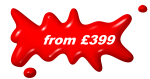 Robust Construction, Built to Take all the Punishment you throw at it.


Quality Manufactured to Meet and Exceed all European Directives for Health & Safety


Fast Efficient Machine.





PARTS & NEEDLES - IN STOCK