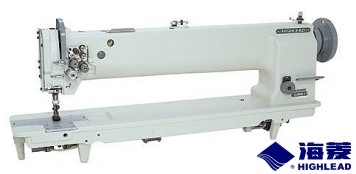 HIGHLEAD GC20698-1 & HIGHLEAD GC20698-2
Based on our very successful GC20618-1 and 2 models and the MITSUBISHI LU2-4400-BOB machines, This is our 25" LONG ARM.
Available Single Needle GC20698-1 or
Twin Needle GC20698-2 in all Needle Gauges.
Very Popular in TENTS SAILMAKING, PARACHUTES, HOT AIR BALLOONS & MICROLIGHT WINGS Manufacture. Also used n the QUILTING TRADE and GARDEN & PATIO FURNITURE & other Industries where Bulky Work Needs to be sewn.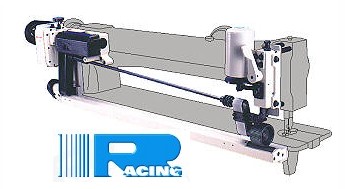 OPTIONAL RACING PT-L Rear Puller

FULL NEEDLE & COMPOUND FEED - TRUE WALKING FOOT FOR DIFFICULT TO SEW ITEMS Powerful even feeding of the workpiece, Needle, Feed Dog and Alternating Presser all contribute to the transport of the Item being sewn, thru the machine. Can also be Modified to Standard Needle Feed System if Required.
MASSIVE 635mm WORKSPACE TO RIGHT OF NEEDLE
Ideal for sewing large items such as Tents, Lorry Tarpaulins, Bouncy Castles, Soft Play Equipment and Furniture Covers etc. Widely Used in Aviation & Defense Industries & Sailmaking.
INTEGRAL BOBBIN WINDER IN CENTRE OF ARM
Bobbin Winder is placed within easy reach of Operater for Quick Bobbin Changes. Large Hook holds 2.5 times thread over a standard Machine. Ideal for heavy threads.
HIGH SPEED - LONG STITCH MACHINE
Upto 2000 stitches per minute (dependant on application). Feed mechanism can deliver upto 9mm stitch in forward and reverse directions.
SAFETY CLUTCH
GC20698-1 & 2 machines are fitted with Safety Clutch to protect the Rotary Hook in case of contamination or Thread Jamming. Easy 'Push Button' Reset.
FULLY ADJUSTABLE ALTERNATING PRESSER HEIGHT
Correct Setting Eliminates Noise and Wear in the Machine. Uses Standard SINGER 211 type Presser Feet and Accessories - Available Everywhere.