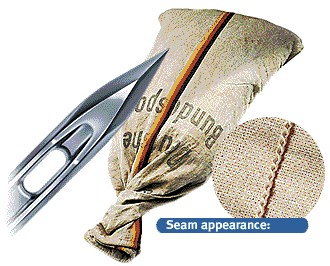 We Stock every major Needle Type in all sizes and point styles for every leading make of Industrial Sewing Machine.
Packed 100 to a Box - All One Size - Standard, Ball, Cutting & Bag Closer Points Available 'OFF THE SHELF' for despatch TODAY !
BAG STITCHER & BAG CLOSER NEEDLES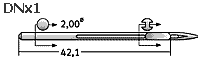 Portable Bag Stitcher and Bag Closer Needles DNx1 FD-5 D5 UY9848GS for SIRUBA NEWLONG FISCHBEIN UNION SPECIAL & REVO are Always in stock.
BLINDSTITCH MACHINE NEEDLES



We Carry a full range of Blindstitch Needles LWx5T, LWx6T, 251, 251LG, 29-49, 29BL etc in sizes from 65 to 100.

130 705H 15x1 in size 80/12 90/14 100/16 110/18
Machine Embroidery 130 705HE in Size 75/11 & 90/14
Packed 100 to a Box or Dispenser - All One Size


NO ACCOUNT?-NO PROBLEM
We accept all major Credit Cards and Ship Worldwide for your convenience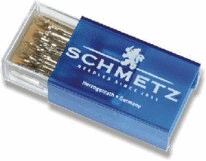 There is no such thing as a cheap needle. That's exactly what they are - cheap ! They are just inferior quality.

The needle is the first point of contact between your machine and your product, so never compromise on quality when you choose the needle for your job.SEW EUROPE only use, Distribute & Recommend GROZ BECKERT & SCHMETZ Needles.

OUR MOST POPULAR LOCKSTITCH NEEDLES




These are the two most popular Lockstitch Machine Needles. Used in all the Leading Machines from BROTHER, JUKI, PFAFF, SINGER,MITSUBISHI, SIRUBA, PROTEX and HIGHLEAD.
Available from Stock in sizes 65 thru 160 in all point styles.




COMPOUND & WALKING FOOT MACHINE NEEDLES



Used in all Japanese,HIGHLEAD and SINGER Walking Feet Machines.
Available from Stock in sizes 65 thru 180 in all point styles.
We Also Carry System 134-35 for PFAFF & DURKOPP ADLER.



OVERLOCK MACHINE NEEDLES



The Most Popular Overlock Machine Needle we carry. Used in all RIMOLDI, SIRUBA, BROTHER, JUKI and YAMATO machines.
Available from Stock in sizes 65 thru 120 in all point styles.
Also from Stock 81x1, 82x13 etc.
SPECIAL POINT STYLES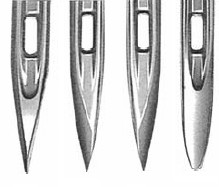 Most types of Needle are available in special point varieties. We hold stock of Leather and Plastic Sewing Needles in point Styles
D, S, LR, RTW, NRTW etc
PLEASE CALL WITH YOUR REQUIREMENT.