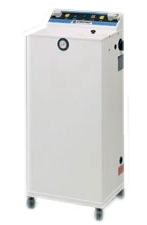 STIROVAP Model 223 5Kw Industrial Boiler
STIROVAP Model 231 6Kw Industrial Boiler
Two High Production Steam Generating Units from STIROVAP, each having it's own distinct
Qualities. Both units offer the following advantages.


Built to Supply Two Ironing Stations.

Built In Safety Valve


Automatic Filling from Internal Reservoir

Easy Drain


Full Mobility, But Can Be 'Piped In' For Static Placement


Independant Control of Steam Feed To Each Iron


Standard UK 13 Amp Plug Supply (x2)
STIROVAP Model 223 Working Pressure 3.3 Bar - Water Capacity 5 Ltr
STIROVAP Model 231 Working Pressure 6 Bar - Water Capacity 7 Ltr **
** Model 231 can be Fitted out to feed 4 Irons as an Optional Extra


Quality Manufactured in ITALY to the Highest Standards. Ideal for Use in all Industrial and Commercial Operations where there is a high steam requirement such as Production Units, Dry Cleaners etc.
We can also supply you with your STIROVAP PARTS.