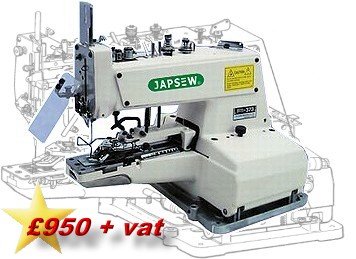 JAPSEW J-373-C Button Sewing Machine

Looking for a Button Sewing Machine which can take the pace?
Quality Manufactured in Japan and based around the very successful JUKI MB373 design, Here's the Machine for the job.
Single Thread Chainstitch Machine Attaches 2 & 4 Hole Buttons, Snap Fasteners, Product Labels and with the optional Fittings, Shank and
Wrapped Buttons can be sewn.
Can also be used for Dot Tacking.





B-2547-373-OBO Flat Button Clamp Assembly (Left)
Optional Shank Button Clamp Set (Right)

AUTOMATIC Thread Trimmer cuts the thread at the end of every Button Sewing or Tacking Cycle
AUTOMATIC Footlift at the end of every Sewing Cycle for easy product removal.
ADJUSTABLE Button Clamp For Ease Of Operation when repeatedly using 'same size' buttons.
AVAILABLE Stitch Settings of 8, 16 or 32 stitches per sewing cycle.


USES STANDARD TQx1 (175x1) Needles for Flat Button Sewing & TQx7 (175x7) for Shank Buttons
HIGH MAX Sewing Speed at 1500 s.p.m.
For More Information - Please Call