JUKI LU-2810S Unison Feed Heavy Duty Lockstitch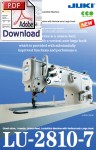 New from Juki, here's the LU-2810S Heavy Duty Large Hook Lockstitch Machine.
Perfect for Heavier Applications in Leather, Webbing, Canvas and Heavy Interwoven PVC.
Powerful & positive feed transport system copes easily with heavy or difficult product like Tarpaulins, Lorry Curtains, Extreme Webbing Products etc.
High Footlift allows sewing thick sponge or wadding to Leather very easy.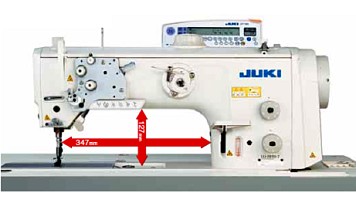 Extra Large 347mm x 127mm Working Space to the Right of Needle Under the Arm makes working with bulky Product Easy.


Large Vertical Axis Rotary Hook as standard means twice the capacity of a Standard Hook. Ideal when using thicker thread. Less Bobbin changes.
MASSIVE 20mm Footlift Height
Adjustable Alternating Presser Foot Height upto 9mm by means of control on top of machine
Stable & Reliable Lubrication System
Maximum stitch size of 9mm for Decorative Stitching & Tacking
Uses Standard 135x17 (DPx17) Needle (more Info)
Built In Bobbin Winder
Independently Adjustable Feed Cam For Perfect Seaming Every Time.