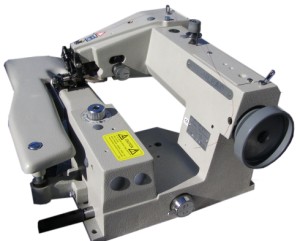 HIGHLEAD GL13118-1 Industrial Blindstitch Sewing Machine

We are absolutely delighted to be able to offer our customers a true High Quality Performance solution to their Blind Hemming requirements.
Looking for a Blind Hemmer? Call us for details of the HIGHLEAD GL13118-1 machine. Ideal for use in Garment Hemming on Skirts, Trouser Hems etc.
The perfect solution for Soft Furnishing Manufacturers for hemming Curtains.
Ease of Use comes as standard. Easy depth adjustment with a calibrated control situated on the arm of the machine. Simple lever adjustment between 'Skip' and 'No Skip' hemming operations. There is even a Feed Dog adjuster built in. Using the GL13118-1 allows easy switching from one fabric job to another. Large 'swing out' front plate allows easy access to the small diameter cylinder arm for when small circular hems such as sleeves need to be sewn.
Please call us today for our best deals on this machine