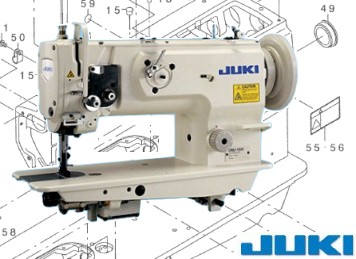 JUKI DNU-1541 Compound Feed Walking Foot Machine

JUKI DNU-1541 Single Needle Heavy Duty Walking Foot Lockstitch With Large Double Capacity Rotary Hook.
FULL Needle, Feed Dog & Presser Foot Feed Transport System Ensures Accurate and Positive Feeding of the toughest Jobs.
IDEAL FOR Sewing Leather - Plastics - Canvas - Vinyls - Velvets - Webbings and Dralon. Also wherever Ply-Slippage is a problem.
USED FOR Upholstery - Banner Sewing - Car Interiors - Leather Work On Bags and Craft Items. A Superb All Rounder.
FEATURES INCLUDE Built In Bobbin Winder in the machine arm. Integrated Knee Lift Mechanism. Simple Lubrication System With Automatic Supply to the Rotary Hook. Extra Large Handwheel for operator comfort. Fully Guarded

SUPPLIED COMPLETE On Single Phase Unit Stand with Clutch Motor. Or as an Optional Extra we can supply with a Servo Motor with or without Needle Positioning.
PARTS SERVICE & PRODUCT SUPPORT We understand that after your purchase you want to get the best from your new machine. With that in mind we promise we can support you in the future with Parts and Product Support. CALL US TODAY.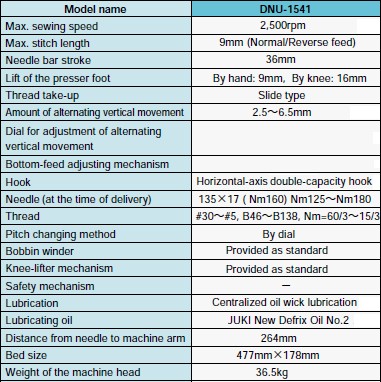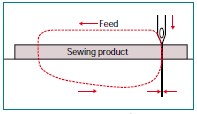 NEWLY DESIGNED Rectangular Feed Motion helps eliminate gathered stitches when compared to conventional Eliptical Feed Motion found on other types of machine.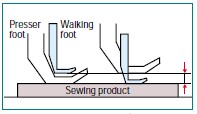 BUILT IN Vertical Movement Mechanism Ensures that the Lift Amount of both Presser Feet remains constant, even when the thickness of the sewn piece changes or sewing over thick seams.

USES STANDARD SINGER TYPE FEET
We carry stock of Piping Sets in all Popular Sizes. We have Zip Feet, both Left and Right Toe and all types of Binding and Accessory Feet to fit this Machine in stock.


DPx17 (135x17)
Standard Needles
In Stock

135x16NRTW
135x16NW
Leather Needles
In Stock

Left & Right
Toe Zip Feet
In Stock

more info

Edge Guide Presser
Foot Sets
In Stock
more info

Piping Sets
In All Sizes
In Stock

more info

JUKI DNU-1541
Parts Book