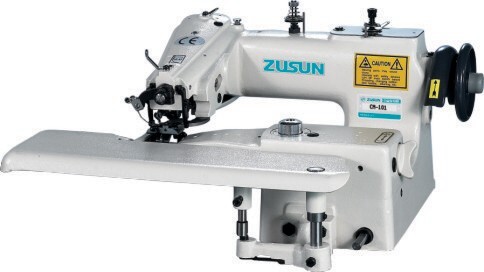 Uses Std. LWx6T Groz Beckert Needles

High Quality Ind. Blindstitch Machine


High Operating Speed of 1200s.p.m.


1 to 1 and 2 to 1 Stitch Ratio


Single Thread Blindstitch


Swing Out Curtain Plate


Small Cylinder For Sleeves


Knee Operated Foot Lift


Supplied Complete on Unit Stand



ZUSUN deliver a superb Industrial Blindstitch Machine with the CM-101. Supplied complete on Single Phase (240v) unit stand, this is a perfect addition to any Soft Furnishing Studio, Garment Manufacturing Plant or Alteration Shop. Ideally suited to Hemming Curtains, Garments such as Skirts & Trousers. Also used for attaching Facings and Paddings in Tailored Garments.
Fully adjustable 'DEPTH' control for perfect hemming of most common fabrics. 'SKIP STITCH' control for Tailoring Applications.
Machine is fitted with a 'Swing Out' curtain plate allowing access to the small cylinder arm to enable the hemming of Sleeves, Cuffs and Small Diameter Goods such as Children's Wear.
All ZUSUN Machines are CE (Europe) Approved, are Cetrified for Quality and Safety by TUV (Germany), meet RoHS Standards and have been certified by the American Quaity Assessors (USA).
The Manufatcurer has been awarded ISO9001 & ISO2000 Quality Assurance Standards