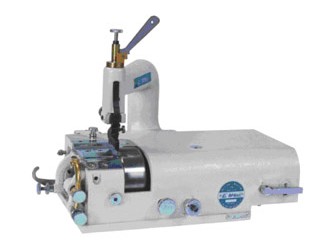 ANKAI AK801 Leather Skiving Machine

Our Basic Skiving Machine which is ideal for Skiving Edges of Folded Seams on all types of Leather Products such as shoes, leather coats, belts, luggage, and leather gloves.
The Ankai AK801 employs Low noise bearings for quiet operation. It also enjoys an Easily Operated Sharpener Mechanism.
Integrated Belt Tensioner for Accurate and Positive Drive along with a Built-In Dust Cleaning System Keeping the cutting area clear makes for one very efficient and productive machine.
Maintenance is easily undertaken with simple access to all High Mortality Parts.


AK801
SPECIFICATIONS

Motor 300-550w 1425 r.p.m.

Knife Size 118 x 114 x 54mm

Knife Speed 1270 r.p.m.

Knife Axial Displacement 30mm

Feed Wheel Speed 62 99 or 132 r.p.m.

Skiving Width 10mm to 50mm

Nett Weight 40kg Gross Weight 43kg
For More Information On Our ANKAI AK801 Skiver, Please Call


Second Line 0151 525 0184