DL96 Gravity Feed Iron Unit - £90.39 + vat

The Low Cost Alternative for Small Workshops Alteration & Tailoring Shops.
Gravity Feed Steam Irons work on the principle that water is held in a container generally placed 80-100cms above the iron. The flow is controlled by an Electronic Valve which only allows water into the steam chamber when the Actuator Button is pressed resulting in a jet of steam being produced by the Iron.
Robust Construction from Quality Japanese and Korean Parts, this Iron is ideal for Small Workshops, Studios and Shops with a Light Pressing Requirement.
Fast 'Warm-Up' and Thermostat Control means your iron is ready to use in just a couple of minutes.
Also Ideal Replacement for your HASHIMA, PENGUIN or DAEWOO UNIT at a Fraction of the cost.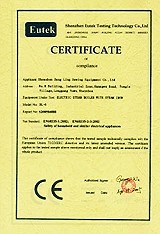 Supplied Complete with Heatproof Silicon Iron Mat.

Approved

Are You RoHS Aware?
Sew Europe is working with all our Suppliers to Meet these Requirements
model:
DL-96
tech spec:
VOLTAGE:230v
WATTAGE:1200W
WEIGHT:2.3KG
SOLEPLATE SIZE:201*113MM
IRON SOLEPLATE:SURFACE TEFLON
PURPOSE:MID-SIZE IRON
brand:
GOLD EAGLE/PENGUIN
detail:
GRAVITY FEED STEAM IRON WITH:

* U/L CERTIFIED THERMAL CONTROL

* U/L CERTIFIED 3X1.25Square Millimeter ELECTRICAL POWER CORD

* U/L CERTIFIED THERMAL CUT-OFF

* JAPANESE STEAM VALVE SWITCH

* THERMAL INSULATION BOARDS ARE MANUFACTURED USING P.P.S. MATERIAL

* REPLACEABLE STEAM JETS

* IDEAL FOR SMALL WORKSHOPS, ALTERATION HANDS AND TAILOR SHOPS

* KIT INCLUDES IRON, HOSE, WATER CONTAINER AND HANGING HOOK.
JUST PLUG IT IN AND 'WAY TO GO'.

price:
£90.39 + vat