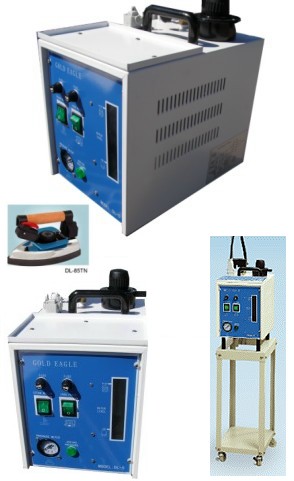 DL5 Boiler Stand 7100034 Just £44.95 + vat
© Ian P.Sissons 27/09/2013

Our Biggest Steam Iron and Boiler Combination. Has a 4.5litre capacity which means upto 8 hours of use from one fill.
Customers familiar with VEIT Irons will feel right at home with this unit. Independant switching of the Boiler and Iron for full Control. Thermostatically controlled DL-83 Iron gives perfect results every time, everyday.

Product Information
Model:
DL-5
tech spec:
VOLTAGE:230v
BOILER WATTAGE:1500W
IRON WATTAGE:900W
STEAM PRESSURE:0.4Mpa (upto 4 bar)
BOILER CAPACITY:4.5L
USAGE TIME: upto 8 HOURS
STAINLESS STEEL TANK
brand:
GOLD EAGLE
detail:
* EQUIPPED WITH ELECTRIC STEAM BOILER
* VISUAL WATER LEVEL AND PRESSURE READING
* AUTOMATIC THERMAL REGULATOR
* SPECIALLY DESIGNED SOLEPLATE THAT PREVENTS WATER LEAKAGE
* SUITABLE FOR USE IN SMALL TAILOR SHOPS,FASHION DESIGNERS,AND DRY CLEANING & LAUNDRY SHOPS. CONTINUOUS USE OF UP TO 8 HOURS FOR EACH WATER REFILL.