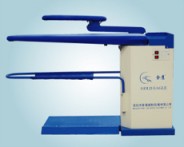 The Ideal Solution for Customers who have a Larger Requirement for Pressing. Customers familiar with VEIT Equipment will be right at home with this unit.
The Heated Board combined with Powerful Vaccuum Downdraught means fast efficient Pressing of even the most difficult fabrics. And fast drying too.
Independant switching of the Unit and Swing Away Sleeve Buck make for a very versatile and user friendly Unit.
Use in Conjunction with One of our Iron/Boiler Combo's (as shown) for Guaranteed Best Results.


All Our Products meet and exceed all the European Directives for Quality and safety, so buy with Confidence.
We also offer a full After Sales Service. Replacement Covers and Spare Parts are just a Phone Call Away.
| | |
| --- | --- |
| | Product Information |
Model:
DL-1600
tech spec:
HEATED VACCUM(PRESSING/IRONING)TABLE:
Length 175cms Width 55cms Height 85cms

brand:
GOLD EAGLE
detail:
PRODUCT COMES STANDARD WITH HEATED IRONING SURFACE AND FOOT OPERATED
VACCUUM SWITCH.
Includes Heated Sleeve Arm as Standard

Available in 230v (single) and 380/415v (3ph)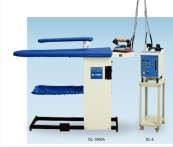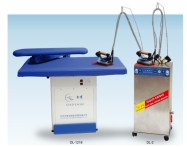 Ask Us About Vaccuum Table & Boiler Combinations